Dear Readers,
A number of people have asked about Pope Francis' March 13 letter to the priests of Rome, which was mentioned briefly in "Do Bishops Have the Authority to Cancel Masses Completely?"  It appears that this letter has not been published on any English-language website.  For that reason, it seems useful to post it here.
Note that while Pope Francis is the Vicar of Christ, and the supreme head of the universal Church  (c. 331), he is also the Bishop of the Diocese of Rome, and thus the direct hierarchical superior of the diocesan clergy here.  It was in that latter capacity that he evidently ordered one of his personal secretaries, Father Yohannis Lahzi Gaid, to disseminate this message to all the priests of Rome.
An Italian Catholic website obtained a copy from what they describe as "a very high Vatican source," and posted it on their website here.  The letter was of course written in Italian, and no official English version exists.  What follows, therefore, is my own translation.
While reading, be aware that on March 13, the day the letter was sent, the Pope's Vicar for Rome, Cardinal Angelo De Donatis—who assists Pope Francis with the day-to-day operations of the diocese, so that the Holy Father has time for the extra-diocesan work that is the unique responsibility of the papacy–had ordered all the churches of Rome to be closed.  Several hours later, after a meeting between Pope Francis and Cardinal De Donatis, they were reopened.  Oblique reference is made in the letter to that fact.
We see here a bishop counseling his priests on the correct way to handle the needs of the diocesan faithful during this time of pandemic.  Bear in mind that by this point, the city of Rome had already, and unconstitutionally, declared it illegal to celebrate Mass with others present, which presumably explains the lack of specific directives in some paragraphs.  (After all, imagine the possible civil repercussions if the Pope had directly urged his priests in writing to violate the law…)  Emphases in several places have been added.
A blessed Easter to all readers!
————————————————————-
Quo vadis, Domine? (Lord, where are you going?)
It is an episode attributed to the Apostle Peter, who, according to tradition, fled from Rome to escape the persecution of Nero, and met Christ, Who carried a cross on His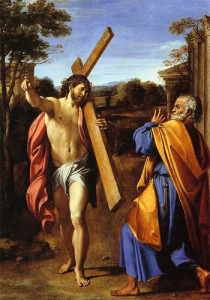 shoulders and headed for Rome.  Peter asked Jesus "Domine, quo vadis?" meaning "Lord, where are You going?" and at Jesus' answer, "Eo Romam iterum crucifigi," "I'm going to Rome to be crucified again," Peter understood that he had to go back to face martyrdom.
Humanly speaking, Peter had every right to flee, to save his life from persecution and perhaps in order to establish other communities and churches; but in reality, he was acting according to the logic of the world—as Satan, in other words, thinking like men and not in accord with God.  Jesus, "turning around," said to Peter:
"Flee from me, Satan!  You are an obstacle to Me.  You are thinking not as God does, but as men do!" (Matt. 16:23).
In the Gospel of John, speaking of the "Good Shepherd" and the mercenary, Christ defines Himself as the "Good Shepherd," Who not only takes care of the sheep but knows them personally and even gives His life for them.  Jesus is the safe "guide" of the people who seek a path that leads to God and to their brothers.
In the pandemic of fear that we are all living through, because of the pandemic of the coronavirus, we all risk acting as hired men and not as shepherds.
We cannot and must not judge, but there comes to mind the image of Christ, Who encounters Peter fleeing in fear, not to reproach him but to go to die for him.  Let us think of all the frightened souls, left alone because we pastors follow the civil instructions – which is right and at this time certainly necessary to avoid contagion – but we risk putting aside divine instructions – which is a pity.  We think like men and not according to God. We stand among the fearful and not among the doctors, the nurses, the volunteers, the workers and the fathers of the family who are at the forefront.  I am thinking of the people who live on the basis of the Eucharist, because they believe in the real presence of Christ who gives Himself in Communion, I think of these people who must now content themselves by following the streaming Mass.  I think of souls who need spiritual comfort and confession.  I am thinking of the people who will certainly leave the Church, when this nightmare is over, because the Church abandoned them when they needed it.
It is good that the churches remain open.  The priests must be at the forefront of the process.  The faithful must find courage and comfort by looking at their pastors.  They need to know that they can run at any time and take refuge in their churches and parishes and find them open and welcoming.  The church must be truly outgoing, even through a "toll-free number" that anyone can call to be comforted, to ask to be confessed, communicated; or to request it for his loved ones.
We need to increase home-to-home visits, using all necessary precautions to avoid contagion, but never by closing ourselves in, and remaining on our guard.  Otherwise, meals, pizzas will be taken home, and not communion for those who want to communicate because they are old, sick, needy.  It so happens that supermarkets, newsstands and tobacco shops remain open, but not churches.
The government has a duty to provide physical care and support to the people, but we have a duty to do the same to the souls.  Let it never be said: "I am not going to a church that did not come to see me when I needed it."
Let us therefore apply all the necessary measures, but let us not let fear affect us.  We ask for grace and courage to behave according to God and not according to man!
Don Yoannis Lahzi GAID
March 13, 2020
Why is Google hiding the posts on this website in its search results?  Click here for more information.